Reading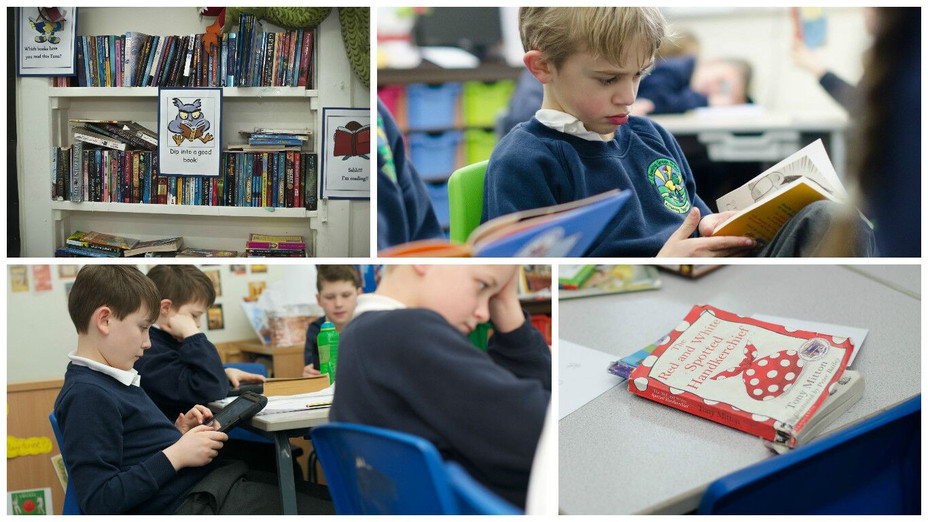 Reading is the most vital skill learnt in the early years at school. It is about enjoyment, making sense of text and understanding and learning to read to obtain information as well as experiencing satisfaction and pleasure. Children need an extensive range of reading material made available to them and to hear stories and poems read aloud. The range of material we offer includes picture books, nursery rhymes, poems, folk tales, myths and legends, stories from a variety of cultures and children's own books which they have 'published' for a wider audience.

We encourage children to read for pleasure and to acquire reference skills so that they are able to find information. Children are encouraged to develop their personal tastes in reading and share their opinions and reviews of books with others.
PHONICS
Our approach to teaching phonics begins in Reception and continues through into Key Stage One. Any children who have not reached the required standard by the end of Key Stage One (Year 2) will continue with targeted phonics intervention in Key Stage Two. It is important to be consistent in the teaching of phonics, so throughout school we follow, Letters and Sounds: Principles and Practice of High Quality Phonics. This is a programme that aims to develop pupils' speaking and listening skills, as well as preparing pupils for learning to read by developing their phonic knowledge and skills. It sets out a detailed programme for teaching phonics with the aim of children becoming fluent readers by the end of Year Two.
We use the multi-sensory approach that is advocated using a wide range of resources. Read, Write Inc is used to teach Phonics along with the actions used in Jolly Phonics. Children are exposed to the Stages of Letters and Sounds that are appropriate for their age and any children who experience difficulty in retaining what they have been taught are helped with intervention in small groups. During your child's time in school you will be offered the opportunity to attend workshops and information evenings which help you to understand the way we teach phonics in school and how children are tested at Year 1.

READING SCHEME
Our school reading scheme contains a wide variety of books from many of the published schemes; Oxford Reading Tree, Story World, Heinmann, Rhyme World, Project X, Floppy Phonics and Fireflies. A few of the books can be decoded entirely using phonics but most require children to employ a range of reading strategies. The books have been carefully ranked and increase in difficulty for a while, the difficulty then levels off to help children to gain confidence and fluency at that level.
The aim of our scheme is to develop fluent, competent readers who understand what they have read. The scheme contains books from different genres so that children get used to reading stories, poems, play-scripts, fiction and non-fiction. We have many parents and grandparents who, along with teachers and teaching assistants, provide children with many opportunities to read in school and have their books changed very regularly. It is also expected that children will read at home most days.
Reading records are sent home with reading books and we aim to work in partnership with parents in helping children both to learn to read and to love reading. Once children become competent readers they access 'free- readers' and for children who begin to fall behind with their reading we provide intervention to help to accelerate progress.
READING ACROSS THE CURRICULUM AND BEYOND
Reading is a fundamental part of much of the school curriculum. In English, children analyse texts in depth through our 'novel studies' and some of our topics are based around books and stories. Younger children also enjoy the story club that runs through the year at different times whilst Key Stage Two children have the opportunity to use e-books in lessons. We also invite a Book Fair into school twice yearly and children visit this with their teachers and parents.

SCHOOL AND CLASS LIBRARIES
All classes have well-stocked class libraries that have many genres of books appropriate to age. The books are attractively presented to encourage children to move from the more formal process of learning to read to reading for pleasure. The school library is in our main reception and Key Stage One children have the opportunity to visit this at regularly with their class teacher or teaching assistant to change books.

GRAMMAR, PUNCTUATION AND SPELLING (GPS)
The new curriculum places a strong emphasis on grammar, punctuation and spelling.

At Bowling Green we have recognised the need for children to be taught grammar, punctuation and spelling discretely, in order that they can not only pass the test at the end of each Key Stage but also apply these skills in their own writing contextually. Children are taught the age-appropriate grammar and punctuation through differentiated class lessons and children who have not grasped certain concepts are provided with focussed intervention to help their understanding in areas where they may be having difficulty.

Spellings are linked to the phases in phonics for Key Stage 1 children and high frequency and 'tricky' words are added into the spelling lists. In Key Stage Two the spellings are taken from age- appropriate lists and differentiated according to ability, we tackle the spellings using an 'investigative' approach with children learning root words and rules for prefixes, suffixes and how they can build up their own vocabulary.
The 2014 National Curriculum has a list of key words that children must learn, you can find it here: